MyMedRec
App Review of MyMedRec – Personal Health Records and Medication Reminder
Reviewed by David Taylor, Click Cures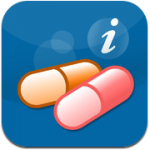 Developers Description
MyMedRec is a portable up to date health record that can be easily shared with your family, doctor, nurse, pharmacist or anyone else involved in your healthcare. It keeps track of the medicines that you and your family members are taking and many other elements related to your health. Use it to remind you when to take a dose and when to refill your prescription. With MyMedRec all of your important health information is saved in one easily accessible place. Maintain a proper diet and record it to fight off diabetes or any other condition.
Main Features
Track current and past medications for an individual or several members of a family
Medication dose reminders and refill reminders
Track immunizations, blood pressure, cholesterol and allergies
Keep a list of healthcare providers (physicians, specialists, pharmacies etc…)
Create and archive notes
Send your information by email
The Good
Simple and intuitive user interface make it quite easy to learn
Allows the ability to track multiple people, making it great for families
It's FREE!
Allows you to password protect your information
User can specify exactly what to send when you email your information to a third party
The Bad
Only has iOS support (iPhone/iPad/iPod Touch)
Does not have any "request a refill" or any sort of email interface with pharmacies
Summary
I highly recommend myMedRec to any iPhone users. This minimalistic app does exactly what it is supposed to using a clean and intuitive interface. It is a little disappointing that it does not have a native iPad version, though it is supported.
This app can also be used in conjunction with the knowledgeisthebestmedicine.org website. The website and accompanying app (MyMedRec) is supported by leading health organizations in Canada who believe that an educated patient is a healthier patient.