Monthly Website Packages
Affordable website packages with low or no upfront costs
Designing and developing a website is often an expensive undertaking. Here at Click Cures we make it easy for your business to develop a web presence by offering monthly website packages, with little or no up front costs.
All our packages include:
Website Design
Website Development
Domain Registration
Web Hosting
Email Account Setup
Website Maintenance or CMS
Website Training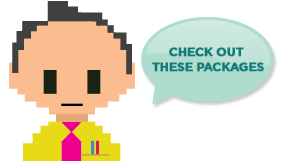 Customized Website
5 pages of content
Customized design template
Web hosting
Domain name registration
CMS
$49.99
Per month
Professional Website
10 pages of content
Custom Design (2 revisions)
Web hosting
Domain name registration
1hr Maintenance/month
$74.99
Per month
Premium Website
20 pages of content
Custom design (4 revisions)
Web hosting
Domain name registration
1hr Maintenance/month
$99.99
Per Month
FAQ's
Can I add-on to a package?
Yes. If you would like to add additional pages or increase the number of design hours we would be happy to oblige. Additional costs will apply.
What is the difference between a "customized design template" and a "custom design"?
Custom designs are created by a designer from scratch. A design template customization uses an existing design and modifies it to include your logo, colours and images.
Do i have to sign a contract?
Because there is a substantial investment on our part to provide this service, we require our clients to sign-up for one, two or three years depending on the package. You can buy out of your contract at anytime by paying the remaining balance of the website value.
What if i'm not interested in a monthly plan?
Not a problem! Request a quote and we can design a package that suits your needs perfectly.